Geographical Physical Characteristic
Geographic Location
Pitogo is situated along the southeastern part of Bondoc Peninsula. It is geographically located on coordinates 122֯ 05" 12' latitude and 13֯ longitude, it is approximately 90 kilometers from the national Capital Region. It is accessible from all points particularly via Lucena City from Metro Manila and by the sea route along its coastal barangays. It has 39 barangays with a total land area of 9,805 hectares.
Pitogo is bounded on the north by the municipality of Gumaca, and the municipality of Macalelon on the south, municipality of Unisan and the blue waters of Tayabas Bay on the east and west respectively.
Physical Features and Environmental Conditions
Pitogo lies in the southeastern tip of the province. It has irregular coastline and rugged surfaces and harbored beaches. The general topography is rolling to slightly sloping. The notable elevated portion is at Barangay Quinagasan at approximately 116 feet above sea
level. There are several inland water bodies and large portions of swamps/marshes and mangroves.
Slope ranges from 0-3% to 8-15%. Majority of the land area has 3-8% slope. This constitutes about 40.59% of the total land area. Only the northern portion of the municipality has 8-15% slope. Susceptibility to erosion is proportional to the slope percentage.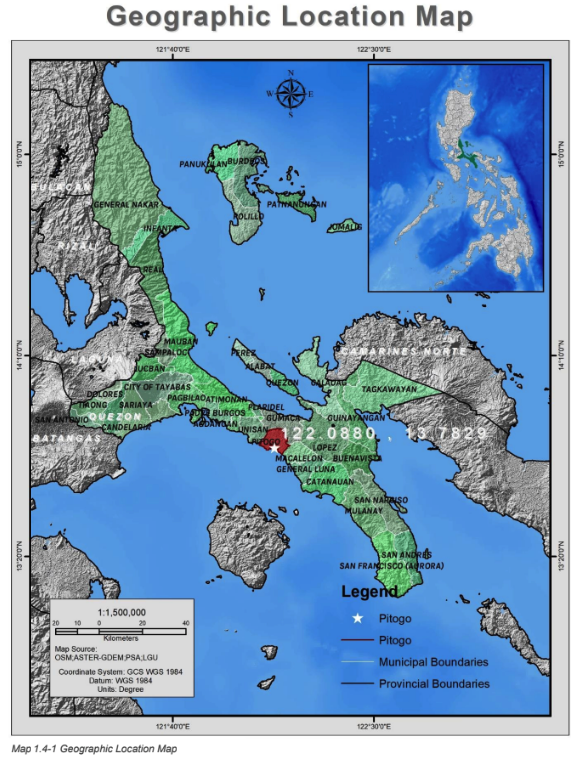 Existing Land Use and Land Use Trends
The land use in Pitogo has been historically dedicated to agriculture and fisheries use while its urban settlement is centered in the Poblacion area where key institutional, residential and commercial areas are located. The general land use map of Pitogo shows the different land uses in the municipality, they are quantified below: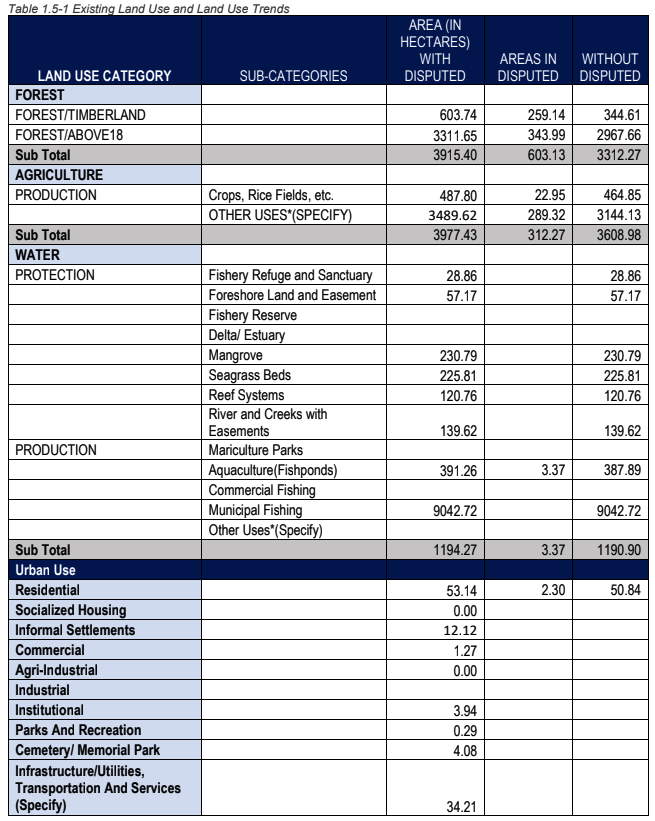 The land area with the highest share is agricultural land at 47.77% followed by forest lands
(those with slopes of 18% and above) at 36.34%. Note that the total land area did not include
the municipal waters.